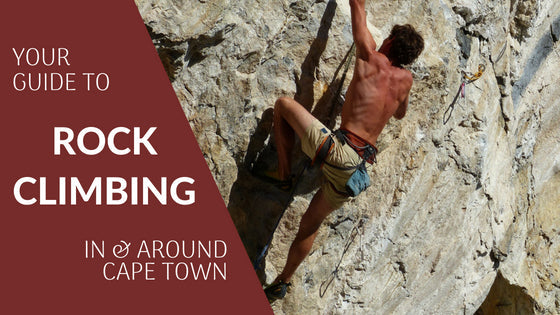 A guide to our favourite rock climbing spots in and around the Cape
The Cape region of South Africa boasts some of the best rock climbing spots, highly regarded among international rock climbers. The Cape's vast mountain ranges, which harbour fresh waterfalls, forests, valleys and views, make your rock climbing adventures absolutely breathtaking. Read our guide on where the best climbing spots are, which routes to take & what you need to know.
The Cape offers world-class rock climbing spots such as Table Mountain, Lion's Head, the Cederberg Mountains, Du Toit's Kloof, Montagu, and much, much more! We'll get back to these climbing spots in a moment. In the meantime, take a look at the photo below of Gosia climbing Table Mountain. Doesn't it make you avid climbers drool?
(Gosia Lipinska climbing Table Mountain: www.climbing.co.za)
BEST TIME OF THE YEAR TO PLAN YOUR CLIMBING TRIP IN THE CAPE
The Cape region experiences rainy and chilly winters, while summers are hot and dry. The rock can get quite slippery during the rainy season which is why climbers tend to prefer planning their rock climbing trips in the Cape during summer, autumn and spring. Winter could also be suitable for a climbing adventure if you keep a close eye on the local weather report. On summer days, temperatures can rise to over 30°C in the Cape region, which some rock climbers may find a bit exhausting. The rock can get quite hot in summer which can burn your hands and make your rock climbing trip quite unpleasant. For the climbers who would prefer mild, comfortable weather, we'd recommend they plan their climbing trips in the Cape during autumn or spring. 
Summer: 1 December - 28/29 February 
Autumn: 1 March - 31 May
Winter: 1 June - 31 August
Spring: 1 September - 30 November
TYPES OF CLIMBS IN THE CAPE REGION             
Bouldering
Bouldering is a form of rock climbing that is performed on smaller rock formations (boulders) without any ropes or harnesses, though you will still need suitable climbing shoes, a bag of chalk for grip and bouldering mats. The climb is short (as the boulders are usually around or under 20 feet) but it's not as easy as it looks.
Trad climbing 
Traditional climbing, or trad climbing, is when a group of climbers use gear consisting of cams, nuts and hexes that get placed into cracks in the wall face, required to protect against falls, which is then removed when a pitch is complete. In trad climbing, a leader ascends a section of rock while placing their protective devices while climbing. As they place each piece of gear into the crack, they clip their rope on and continue up. Once they are at the top, the second climber usually follows and removes all the gear. This way, you never leave gear on the climb and you leave the rock the way you found it. This style of climbing requires experience and in-depth knowledge of the gear.
(www.rei.com)
Sports climbing 
Sports climbing is a type of climbing where you follow a route where there are already bolts in the rock where you will be climbing. The only gear you need to take up with you are quickdraws which are clips that you attach your rope to the bolts as you ascend. This form of rock climbing is much safer than trad climbing and ideal for those climbers who are not yet at an experienced level of rock climbing. Similar to trad climbing, the leader ascends a section of rock while placing their quickdraws into the permanent bolts and will belay the following climber.
(www.rei.com)
OUR TOP PICKS OF CLIMBING SPOTS IN THE CAPE
Table Mountain
Table Mountain is easily one of Cape Town's (and South Africa's) most famous landmarks. It stands at an impressive 1085 m tall, towering over Cape Town's city and offering an array of activities such as hiking, cable car rides, rock climbing and abseiling. Table Mountain has exceptional trad climbing routes - sports climbing cannot be done on Table Mountain as it is a heritage site and national park, therefore no bolts are allowed to be placed on the rock. Table Mountain has steep sandstone crags with various climbs ranging from easy to strenuous gymnastic climbs for the more experienced. The rock is of excellent quality with solid handholds and footholds and the views from the mountain are world-class.
Lions Head
Lions Head, which is situated next to Table Mountain, offers both sandstone and granite crags.There are some single-pitch sport routes on the granite but mostly they are multi-pitch trad routes, while there are only trad routes on the sandstone with a mix of single pitch and multi-pitch routes. Lions Head has something for all levels of climbers and can be climbed at almost any time of the year as the rock dries quickly in winter and it's often protected from strong winds. If you're interested in climbing Lions Head, we recommend that you purchase a copy of A Climber's Guide to Lions Head by David Mercer, which points out all routes and provides you with important you'll need to know before heading out. Lions Head is also famous for offering one of the most beautiful hiking experiences.
(www.getyourguide.it)
The Cederberg
The Cederberg is a mountain range in the Western Cape, about a 2 or 3 hour drive outside of Cape Town. The Cederberg is famous for its ochre-coloured rock, well-preserved rock art left behind by ancient San people and fantastic rock formations like the Maltese Cross and Wolfberg Arch. Trad, sports and bouldering can all be done in the Cederberg mountains with various routes suitable for all levels of climbing. The Pakhuis Boulders is one of the most famous bouldering spots in the world, in a semi-desert setting of beautiful rough, sandstone boulders. Rocklands is one of the most popular sport climbing area in the Cederberg, gaining international recognition and Krakadouw is on every avid trad climber's bucketlist. 
(www.sanddrif.com)
Du Toit's Kloof
Du Toit's Kloof is situated in the Western Cape province between the areas of Paarl and Worcester. Du Toit's Kloof boasts impressive valleys and sandstone walls that offer some of the best trad routes in South Africa (over 65 routes). Great bouldering can also be found on the Worcestor side. It's compulsory to obtain a Cape Nature Conservation permit to climb Du Toit's Kloof which you can get through www.capenature.org.za. Du Toit's Kloof has various routes that can be quite testing and recommended for fairly experienced climbers, such as Exposure in 'F major, North by North-West, Newborn and Prime Time. You have to take quite a walk to get to the starting point but it is all worth it! We recommend that you obtain guides before you try ANY mountain climbing routes as there are just too many to go into in 1 article.
(www.nightjartravel.com)
Montagu
Montagu is recognised as one of the most outstanding climbing destinations in South Africa, just a 2 hour drive outside of Cape Town. Montagu's sandstone walls offer a wide variety of climbing opportunities at every level from beginner to expert, with over 500 climbing routes to choose from. There are a few well-known routes such as Cool Like That, Thruster, Eagles Folly, Gospel Express and Chocolate Speedway, just to name a few. What's great is that Montagu has a very low average annual rainfall, making it the ideal place for planning a rock climbing trip. Usually when Cape Town is experiencing grey weather, Montagu's skies are bright and blue, providing perfect climbing conditions.
(expedia.com)
If you enjoyed this article and want to read more about the exciting things we get up to in Cape Town, follow us on Twitter , Instagram and like our Facebook page. If you'd love to have your own Cape Town experience, contact us at Riverlodge Backpackers to book your affordable accommodation or book online (view our accommodation options).