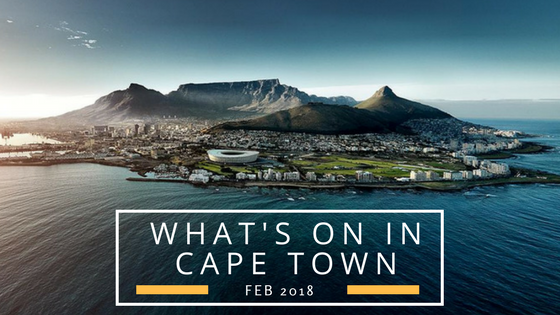 What's on in Cape Town this month
See what's hot and happening in Cape Town during the month of February 2018. Not only is it the month of love, but the month where one of the hottest music festivals takes place, as well as various popular annual events.
Scroll through the list below to make sure you don't miss out on any of these events in Cape Town.
Zando Cape Town Tens Festival
Date: 2 - 3 February 2018
Venue: Hamilton's Rugby Club in Green Point
Cost: Between R50 and R3000
This popular, amateur sporting event draws crowds from across Cape Town. The event is set to be the biggest and best yet, featuring entertainment by Fokofpolisiekar, GoodLuck, Sketchy Bongo, DJ Sox, Majozi, the Light Years and more.


SA National Beer Day at Beerhouse
Date
: 3 February 2018
Venue
: Beerhouse, Long Street
Time:
 11am to late
Cost: Free
On the 3rd February, well-known and popular Beerhouse will celebrate the second South African National Beer Day where they encourage people to indulge in local craft beer. They will be giving everybody 50% off their #DrinkLocal tasting tray and a free Beer Tasting with their local brewers at scheduled time slots. The #DrinkLocal tasting tray is made up of (6 x 120ml) beers from breweries that are within 20km of Beerhouse. 
Franschhoek Summer Wines Festival
Date
: 3 February 2018
Venue
: Leopard's Leap Family Vineyards, Franschhoek
Time:
 12.00 - 17.00
Cost: R220
Enjoy some of best wines the region has to offer on 3rd February in Franschhoek. Look out for a superb selection of whites, as well as live music and delicious food. Enjoy panoramic views of the valley.
Durbanville Hills Trail Run

Date: 4 February 2018
Venue: Durbanville Hills, Tygerberg Valley Rd, Cape Farms, Cape Town
Time: 6.30am to 9am
Cost: R130
Durbanville Hills hosts its annual Trail Run on 4th February in support of the Farm Workers' Trust, a fund which aims to improve the quality of life for employees and their children on the surrounding farms. The route follows a 7km path suitable for all levels and each entry includes a bottle of wine as well as an entry into the lucky draw. 
Ultra Music Festival

Date: 9 February 2018
Venue: Cape Town Stadium, Greenpoint
Cost: R700 - R1500
For the fifth year in a row, the South African edition of the Ultra Music Festival is here! Look forward to sounds of Armin van Buuren, Afrojack, Carnage and more. Ultra Music Festival is one of the hottest events happening in Cape Town this month!
Heart FM Cape Town Music Festival

Date: 10 February 2018
Venue: PPC Newlands Cricket Ground, 146 Campground Rd, Newlands
Time: 10.00 am
Cost: R70 to R150
Radio station, Heart FM, presents top local artists in various genres in this day festival. Among the artists are award-winning artists such as AKA and Mango Groove. Famous pop artist Jimmy Nevis and Afrikaans alternative rockers Die Heuwels Fantasties are joined by R&B singer Chad Saaiman and Dr Victor & the Rasta Rebels and more.
The Colour Run Stellenbosch

Date: 17 February 2018
Venue: Hoërskool Stellenbosch, 18 Jannasch Rd, Mostertsdrift, Stellenbosch
Time:  8am to 12pm
Cost:  R150 – R270 | U10s free
The colour run event features the world-famous Finish Festival, where participants celebrate the end of the 5 kilometer race by being doused in colourful, non-toxic powder. 
Design Indaba

Date: 21 - 24 February 2018
Venue: Artscape Theatre Centre, DF Malan Street, Cape Town
Time: 9AM - 6PM
Cost: R3220 - R8300
Known as the conference of creativity and innovation, the annual Design Indaba event has evolved into so much more than just a conference. It incorporates live music, performance, fashion shows, product launches, dance, and surprise appearances by the design industry leaders.
Stellenbosch Wine Festival

Date: 23 - 25 February 2018
Venue:  Coetzenburg Sports Grounds, Stellenbosch
Time: Friday 16:00 – 21:00 / Saturday 12:00 – 20:00 / Sunday 12:00 – 18:00
Cost: Friday R150 | Saturday & Sunday R190
A wine, food & lifestyle festival held in the heart of Stellenbosch. The Festival is the country's oldest wine festival, showcasing hundreds of Stellenbosch Wines from award-winning producers to small boutique wineries.