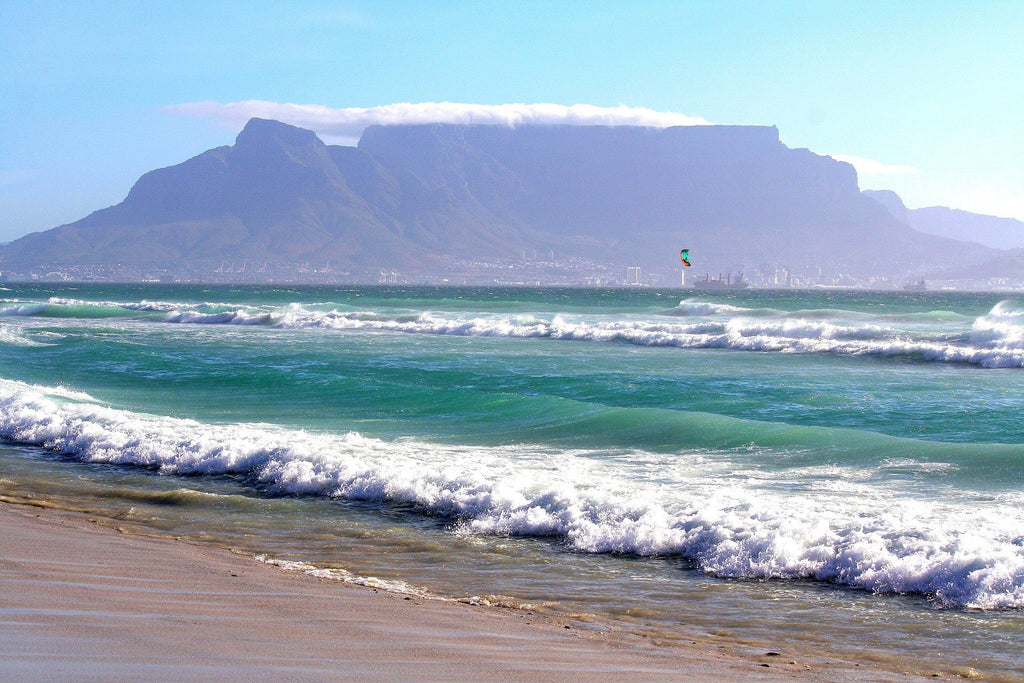 With the heat of this summer season in the Mother City making it ideal for beach days, we've compiled a list of our 10 favourite beaches in Cape Town. We've included a little description of each beach, so read through them and see which ones you'd fancy visiting.
Camps Bay Beach
This buzzing beach is situated along Camps Bay promenade among a variety of trendy bars, restaurants and hotels, not to mention the magnificent 12 Apostles Mountain and Lion's Head. Some find the water to be a bit icy while others enjoy dipping into the refreshing temperatures. Regardless of your preference, you are going to have nothing short of a fun-filled day. End it off with sundowners at any of the vibrant bars or restaurants (remember to first decide upon a designated driver!).
Clifton Beaches
A 5 minute drive away from Camps Bay, you will find 4 beaches that together make Clifton Beaches (Clifton 4th Beach being most popular - see above photo). Clifton Beaches are well acquainted with celebrities and the trendy "in-crowds". What makes these beaches even more popular is the fact that no matter how windy the weather, these beaches are sheltered from the gusts. The sizzling sun is perfect for tanners (and sunblock!) and is contrasted by the freezing water, which many enjoy taking quick dunks in to cool off. Vendors roam the beaches with refreshments, so remember  to take a bit of cash with you!
Muizenberg Beach
If you are looking for a warmer beach to swim in, Muizenberg beach is the beach for you! Perfect for families, joggers, surfers and body boarders, this beach is a popular choice throughout the year. Nestled in this cosy village, you have an assortment of coffee and ice cream shops, as well as the vibrant Blue Bird Garage Food and Goods Market which takes place every Friday evening. 
Boulders Beach
You will find this beach in the quaint village of Simon's Town. What makes this beach so famous is the colony of thousands of African Penguins that waddle around freely, and the large 540 million year-old granite boulders from which the name of the beach derives. The waters are warm and rock pools filled with exciting sea creatures provide an adventurous experience for the kids. If you wish to get an even closer view of the penguins (not too close or you might risk a sharp beak snap at you!) you can make your way by foot to Foxy Beach.
Sandy Bay
Surrounded by a nature reserve, huge boulders and a mountain, Sandy Bay gives one a feeling of being in the wild. Some choose to enhance this feeling and go in the nude, while others prefer to remain covered (either is allowed). Getting to the beach itself is quite the adventure itself. You can either go for a little bit of a rock climb from car park to beach, or take the more scenic route by walking the 20 minute pathway surrounded by bush. Make sure to bring refreshments with, as there are no restaurants or shops within close distance.
Llandudno Beach
Within walking distance from Sandy Bay, you will find one of Cape Town's most beautiful beaches. Located in the neighbourhood of Llandudno, you will find no street lights, shops or commercial activities, but you will find beautiful granite boulders, tropical blue waters and magnificent sunsets that will leave you in awe. This beach is more popular amongst surfers rather than swimmers as the waters are known to be rough. If swimming is not your strong point it is advised you stay in the shallow depths and keep an eye on the kids!
Blouberg Beach
This beach has it all, from kite-surfing to wind-surfing to rock pools to magnificent views of Robben Island and Table Mountain! The long stretch of inviting shoreline accommodates for everyone, whether you are looking for a relaxing walk, an adventurous day of water/beach sports, or to simply soak up the sun's bronzing rays. No need to bring refreshments as opposite the beach is the popular The Blue Peter restaurant, famous for their delicious pizzas and vibey atmosphere.
Bikini Beach
​This beach is situated in the small but vibrant harbour village of Gordon's Bay. This pretty beach is suitable for swimming, diving and surfing and is visited often by our Cape Doctor, the south-easterly wind that is responsible for clearing up Cape Town's air.  This beach is exciting for the kids, as the shoreline is decorated with colourful starfish, hermit crabs and stunning shells!
Scarborough Beach
Scarborough is a cosy little beach village, surrounded by beautiful nature reserves and cliffs which the ocean's waves crash upon. This is a good beach for body boarding, kite surfing, kayaking, windsurfing and crayfishing, or simply just to enjoy the serene and isolated feel of the unspoiled surroundings. While visiting this beach, make a day out of it and go explore this little village's few restaurants and quaint little houses – it really is something to see!
Noordhoek Beach
Do you enjoy long and peaceful walks on the beach? Then this is the beach for you! With 8km of unspoiled shoreline, you can enjoy the serene atmosphere as well as the dazzling scenery of Chapman's Peak and a century-old shipwreck. Take your family or loved one on an unforgettable experience of horseback riding along the shore while taking in the magnificent wildlife of birds, otters, seals and whales!
Written by Saskia Carelse
(All pictures sourced from Google Images)
If you enjoyed this article and want to read more about the exciting things we get up to in Cape Town, follow us on Twitter and like our Facebook page. If you'd love to have your own Cape Town experience, contact us at Riverlodge Backpackers to book accommodation, or book online.