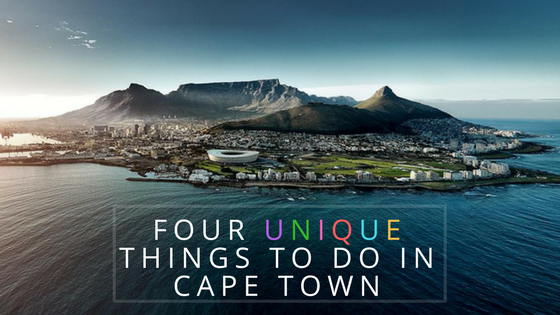 Four unique activities to do in Cape Town, South Africa
Many tourists who visit our city do some research beforehand on things to do in Cape Town. There's just so much to do that choosing can be quite difficult!
However, article after article promotes the same activities; going up the cable car up Table Mountain, taking a boat trip to Robben Island, visiting the penguins at Boulders Beach, exploring Kirstenbosch Gardens.. you've heard it all before, right?
Now I'm not saying that these activities are boring or overrated. They are absolutely stunning and exciting, each in their own right. All I'm trying to say is that there are so many more activities that one can do in Cape Town that will leave you with an exciting story to tell, that not many people can take back home with them (because they followed the general recommendations).
This article is going to be a little different. We're going to spice things up a little bit! Here are 4 UNIQUE activities that you can do in Cape Town. Have fun!
1) Snorkel with Cape Fur Seals
This is a great way to observe Cape Town's beautiful underwater life without all the extensive training and complicated equipment required for scuba diving. Your wetsuit, mask, snorkel, fins and a short training session is included. (Click here to book online)
2) Freewheel down Table Mountain on a mountain scooter
Go on an adventurous 5 km off-road track down the side of Signal Hill into Bo-Kaap before driving to Table Mountain for your freewheel. Jump on a Monster Mountain® Scooter and enjoy an exciting downhill descent into Cape Town from the slopes of Table Mountain. (Click here to book online)
3) Shark cage diving 
Come face to face with Great White Sharks, one of the world's greatest predators. An on-board marine biologist will educate you about the Great Whites. A pre-trip safety briefing about what to expect during the trip and a biological background on Great White Sharks. One of the most exhilirating activities you can do! Breakfast and lunch included. (Click here to book online)
4) Helicopter tour 
Fly around Cape Town's Indian and Atlantic coastlines, circle Table Mountain and see outstanding mountain ranges. Listen to commentary from your pilot while crossing the Cape Peninsula. (Click here to book online)
So there we have it! I've given you 4 unique activities that you can do in Cape Town. Fill your itinerary up with these recommendations, as well as the cable car, Robben Island, Kirstenbosch Gardens etc etc and you will have one whopper of an experience in our lovely city!
If you enjoyed this article and want to read more about the exciting things we get up to in Cape Town, follow us on Twitter , Instagram and like our Facebook page. If you'd love to have your own Cape Town experience, contact us at Riverlodge Backpackers to book your affordable accommodation or book online (view our accommodation options).