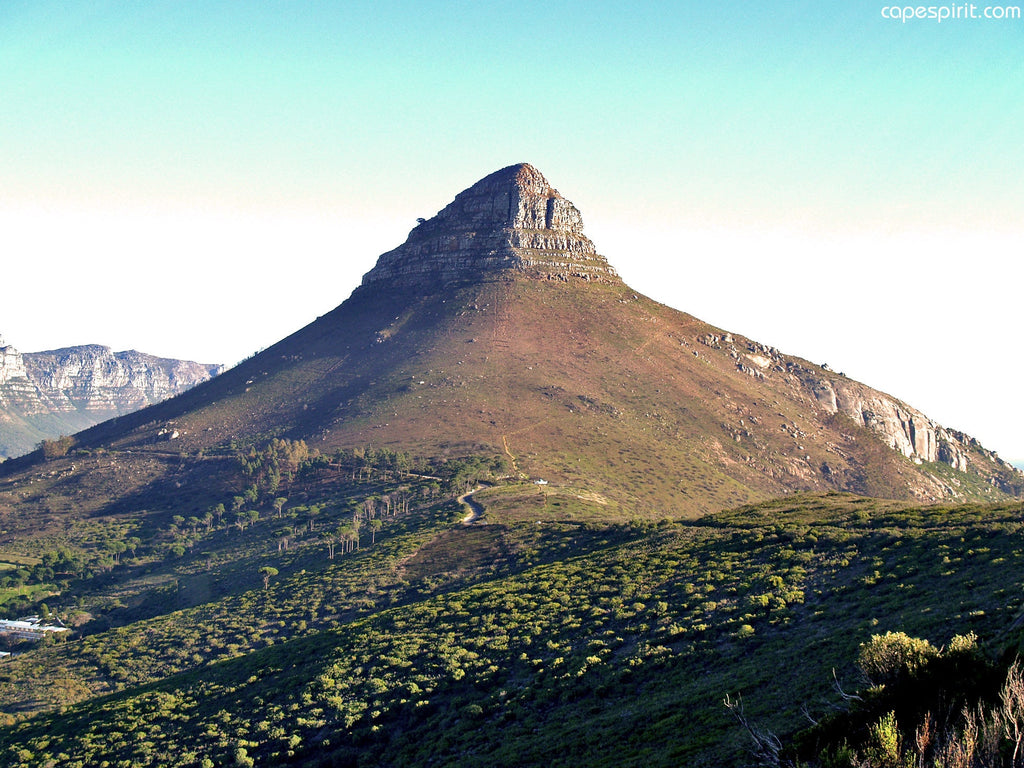 Besides for starting off with bad weather, an unexpected climbing experience and almost injuring myself, I had a beautiful day up Lions Head in Cape Town.
It all started on a rather cloudy Monday morning in Cape Town: I woke up and was determined to hike up the iconic Lion's Head today. After having a look out of the window, I was a bit skeptic because the weather turned out not to be as good as expected. Nevertheless I caught the train into Cape Town City and headed in the direction of Lion's Head. I strolled along Burg Street - the one to the left of Loop Street (I really had to Google the street's name, because everyone just knows Long, Loop and Bree Street, but not the other ones) and walked through the beautiful Company Gardens and up Kloof Nek Road, where I eventually decided to catch one of the MyCiti Buses, which took me to the bus stop "Upper Kloof".
From there I started my way up to Lion's Head, first on the street, until I found the stairs that led me to the hiking trail. The further I went up, the better the view became, with every meter, for the next 2 hours to the top. If you should wonder why it took me so long: I am obsessed with taking photos, which always takes a fair amount of time. 
So on the first part of Lions Head's path, the sandy orange part, on which hiking still is hiking, I of course met other Germans. I am indeed surprised that I am always surprised to come across Germans in Cape Town; by now I should have got used to it, but no, not really.
Anyway, we talked a bit about this and that while walking together, but eventually we parted again and I continued my way alone. That was about the time when the path became stonier and the hiking became more rock climbing, which I, to be honest, didn't quite expect, although I read a bit about it on the internet. Actually, it is obvious after simply looking at the mountain, but I somehow didn't want it to be true.
.
I chose the "recommended" route up Lions Head, that didn't involve the ladders and chains, as that looked rather scary to me. Nevertheless, there was a lot of climbing involved. On my way further up Lions Head, I came across plenty of other friendly people, sometimes chatting to them and sometimes only greeting them. Of course there were also more Germans among them.

The higher I got, the better the view from Lions Head got, as already said. At some point I almost turned around every 10 metres to take a photo and enjoy the view and although I was a bit anxious and shaky from time to time, the view, once arrived at the top, absolutely made up for it.
Did I mention that the day turned out to be mostly sunny and rather warm? I spent around 40 minutes up on the top, enjoying the sun, the view and watching the clouds pass by. I saw the people come and go and after some time I thought it would be time for me to make my way back down. Luckily, the descending Lions Head wasn't as bad as I had imagined and it also took me by far less time than my way up. About halfway down, I just sat down on some of the big stones in the middle of the "path" and enjoyed the view until other people came down, so I continued my descent, in order to not be in their way.
Almost back at the road, I nearly slipped and fell down the stairs that let me from the hiking trail to the just mentioned road. Luckily, nothing bad happened and I arrived safely at the bus station, where within the next minute my bus back to the Cape Town International Civic Centre arrived. Ironically, it just started to rain after I got on the bus. I wondered how one person can have so much luck…

Well, that was my little adventure of hiking up Lion's Head in Cape Town. By the way: Do you also wonder how much imagination the Dutch people must have had to see a lion in Signal Hill and Lion's Head?
Written by Nina Dammann
If you enjoyed this article and want to read more about the exciting things we get up to in Cape Town, follow us on Twitter and like our Facebook page. If you'd love to have your own Cape Town experience, contact us at Riverlodge Backpackers to book accommodation, or book online.